No, it's not the hottest, new move on the dance floor. It's just the old High Guard as it is taught by Master Liechtenauer and his disciples, may God rest their souls. But how should it be done, really?
The guard Vom Tag is a simple thing when you look at it super- ficially. However, when you examine the often ambiguous advise given in the manuscripts and reflect on the possible translations of words and sentences, while comparing with the illustrations, you soon realize that the term Vom Tag contains a very broad spectra of possible stances.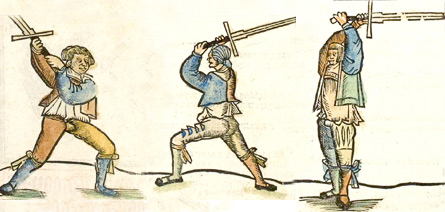 Basically there are two variants of the Vom Tag. Vom Tag and High Vom Tag. Vom Tag is most commonly held close to the shoulder and High Vom Tag is held with the sword above the head.
Within this there are variations. Regular Vom Tag can be held with the hands before the head, to the side or even held to the side but behind the head. Lazy Vom Tag, as it has come to somewhat derogatorily be called, is held with the hands below the shoulder, sometimes with the blade resting against the shoulder, and sometimes even with the flat of the blade.
Regular Vom Tag and High Vom Tag can have the point straight up, leaning slightly backwards and even hanging behind the back, similar to Joachim Meyer's Zornhut.
Some claim that the Low and especially the Lazy Vom Tag, where you let the sword rest on the shoulder, will make you weaker, more vulnerable, slower and more limited. This is something I do not agree with. Also, clearly several old masters agree with this, as can be seen from the quotes below.
A good amount of debate has revolved around the German preposition "an" and what it means in the verses below, where you are told to hold your sword "an" your right shoulder. Some interpret it as "close to" and same think that it could include the mening "on your shoulder". The word does have several meanings including; to, at, on, by, against, along, about, onto and beside.
The basic flaw with the reasoning against using the Vom Tag at the right shoulder is the misconception that you need force and strength to work against a strong opponent who strikes forcefully. This is simply wrong and goes completely against the underlying principles of the techniques we are taught throughout the Liechtenauer tradition. Weak against strong, strong against weak is vital both in Fuhlen where we try to judge how to counter our opponent's actions, but also when we work from a bind. Thus you often parry or displace with the middle or strong part of your blade against the forward or middle part of your opponent's blade and you do it in a direction that displaces his or her attack. This doesn't require force, since it is simply a question of timing and leverage.
Parts of my contributions have been added at the bottom, for those who don't have access to the ARMA site
Here are quotes regarding how to perform Vom Tag cut from several sources.
_________________________________________
LVT = Any Vom Tag held to the side
HVT = High Vom Tag
_________________________________________
Hs. 3227a – ca 1380 – LVT, HVT or Zornhut
Dy vierde hute / vom tage / ist der lange ort / wer den wol furet mit gestragten armen / den mag nicht man mit hewen noch mit stichen wol treffen / Is mag auch wol treffen / das henge ober dem hawpte
However, note: hie merke und wisse das lichtnawer / eynen o[e]berhaw slecht von der achsel / heisset der czornhaw / wen eynem itzlichem in syme gryme und czorne zo ist im keyn haw als bereit / als der selbe aberhaw slecht von der achsel / czum mane
_________________________________________
Ringeck – ca 1440 – Low VT and HVT
Vom tag Do schick dich also / mit stand mit linckem fuß vor vnd halt din schwert an diner rechten achseln Oder halt es mit vßgerechten armen uber din haup
_________________________________________
Peter Von Danzig – ca 1452 – Low VT and HVT
Merck die hùtt haist vom tag / do schick dich also mit / Stee mit dem lincken füeß vor / und halt dein swert an deiner rechten achsel oder mit auff gerackten armen hoch über dein haubt / und stee also in der hùt
_________________________________________
Jud Lew – ca 1450 – HVT, Low VT with the flat.
Item die vierd hut heisset vom tag Und schick dich also mit Setz den lincken fuß für und halt dein swet mit aufgerackten armen hoch über dein haubt und wende die langen sneiden für und laß den ort ein wenig zeruck hangen und stee also in der hutt etc.
So merck wann du nahent zu Im kom~est so setz den lincken fuß für vnd halt dein swert mit der flech an dein' rechten achsel Dritt er dann zu dir vnd drewet dit zuslahen so kum~ du vor vnd spring mit dem rechten fusse wol auf dein rechte seitten vnd Im sprung wende dein swert mit dem gehültze vor deinem haubt das dein dawmen vnden kom~en vnd slag In mit der kurtzen sneiden zu der lincken seitten seins kopffes etc.
_________________________________________
Hans von Speyer – ca 1491 – HVT
Item die vierd hutt heist vom tag und schick dich also mit: setz den lincken fus vor und halt din schwertt mit ausß gestreckten armen hoch uber din haupt und wind die langen schniden fur und loß den ortt eyn wenig zu rueck hangen und ste also in der huott.
_________________________________________
Solothurner Fechtbuch – 1423
Peter von Danzig – 1452
Paulus Kal – 1507
Glasgow Fechtbuch 1508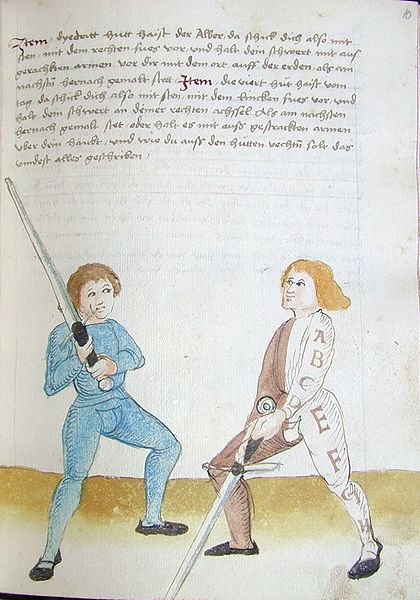 Andreas Paurnfeindt – 1516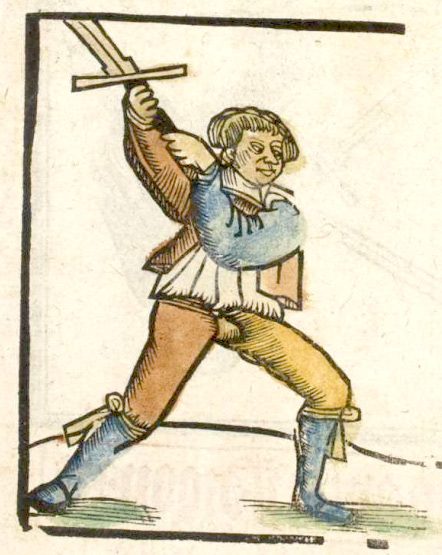 Paulus Hector Mair – 1540
Joachim Meyer 1570
__________________________________________
This article relates to:
a discussion on High, Low and "Lazy" Vom Tag on the ARMA site.
Also read Hugh Knight's article "What is vom Tag?"
The article "Is there a Left Vom Tag?" may also interest you.
Sources: (These will be updated properly shortly)