Site Admin

Posts: 701
Joined: Wed Nov 25, 2009 12:13 pm
Weapons: Longsword, quarterstaff, dussack, dagger
Location: Gothenburg, Sweden
Contact:
This book contains a few interesting images... A lot of flails, for some reason.
Attachments

0120r.jpg (185.27 KiB) Viewed 3451 times

0118r.jpg (151.95 KiB) Viewed 3451 times

0099r.jpg (170.16 KiB) Viewed 3451 times
Kevin Maurer
WOW Roger fascinating stuff, indeed, looks to be dated 19 Apr 1595, too bad i dont read Latin,
Interesting that some of the Flails have been cut in two, by the opposing
swordsman, Also the text on the top of the last page says that this is the Wittenberg Rathaus, or Wittenberg City Hall. Strange that i am translating articles of the federfechter that pertain to Wittenberg, 1612.
These articles detail the accusations against a Master of the Longsword. And then end with 14 Original Articles of the newly formed Freifechters of the Feather, I am finishing up a Book on the Guilds. To be published through the new HEMA Alliance Press. WOW beuatiful pictures, thanks Roger, this has made my Morning!!!
Kevin
Site Admin

Posts: 701
Joined: Wed Nov 25, 2009 12:13 pm
Weapons: Longsword, quarterstaff, dussack, dagger
Location: Gothenburg, Sweden
Contact:
I am REALLY looking forward to your book and I will get a copy as soon as it is out...
What is also interesting about the images, are the two figures fencing, surrounding the
Wittenberg Wappen. EDIT: On second thought, and after having sharpened the image a bit, I dont' think the figures
are fencing, but rather angels holding the wappen of which the "framing" has worn off. Might have
been golden, originally. And it wouldn't surprise me if the faces were those of known people.
Attachments

wappen-wittenberg.jpg (105.44 KiB) Viewed 3441 times
Is on speaking terms

Posts: 8
Joined: Fri May 07, 2010 6:09 pm
Web site 2: http://www.youtube.com/user/Djemps#g/u
Weapons: Longsword, Peasant Staff, Flail, Scythe, Sickle, Pollaxe, Staff.
This is a great resource! I hope someone can translate the text soon.

The third image in particular reminds me a lot of Page 76 from Jakob Sutor's "Fechtbuch". It shows a gentleman thrusting his rapier into the chest of a city guard who was swinging a Flail at his head. I don't have a translation of the German but the basic gist is: "This is what you do if you are attacked by a guard at night."

I've always been puzzled by Sutor's general suggestions that an upper class bourgeois can freely run his Rapier through the chest of a city guard without any fear of repercussion, or that the guards were truly so belligerent as to randomly attack well-to-do citizens with spiked flails at night. I've often dismissed Sutor as a hack who just plagiarized previous masters' works (Meyer) while adding his own made up interpretations for additional flavor.

But this painting essentially recreates the same exact scene as Sutor's page 76 multiple times over. The Fechtbuch's simple line drawing of the guard clearly shows him wearing an open faced Burgonet with a Comb. He also seems to be wearing a breastplate while his arms and legs are not armored. The breastplate might also be a vest, it is hard to tell. The man with the Rapier is not wearing any armor and is wearing a fashionable hat. In comparison, the painting shows at least four separate match-ups between men in fashionable clothing, hats and Rapiers against men holding Flails and wearing Burgonet helmets, breastplates, armored arms and thighs. It seems to me that these are more examples of fights between upper class citizens and the city guards / militia.

If this is so, it poses some fascinating questions: What social class did the city guards come from? How much authority did the guards actually have? Why were they frequently in conflict with the upper class? Were the guards not allowed to carry swords because of their lower social class or because Flails were less dangerous? (The Flails are spiked, so I think it might be an issue of class rather than safety.) Could a nobleman really run a guard through and get away with it? The list goes on and on...
Site Admin

Posts: 701
Joined: Wed Nov 25, 2009 12:13 pm
Weapons: Longsword, quarterstaff, dussack, dagger
Location: Gothenburg, Sweden
Contact:
I agree that these raise many questions and I also noticed the difference in clothing, armour and weaponry. Almost like two teams.
Here is the original source, btw
http://dig.vkol.cz/dig/mi472/
It contains quite a few blank images, but also some pretty amusing, humorous images
Amongst others, a black, female bishop
A naughty Fraue Justitia
Ehm...
Some appear a bit struck by exotism
One of Simon's sweethearts maybe?
And a brother in arms
Again, ehm.
A doll machine?
A rake in your wappen? Why? Was it your wife's decision?
Now this is more like it. A man with an appetite:
Almost got it, though I don't really know latin
Musicians get all the ladies
Hard to please everyone?
An ostrich with a worm in its beak on your wappen, really?
Was everything else tanken already?
And the pretzelmaker is a friend.
Three ladies on a string, at the same time...
Kevin Maurer
Greetings James good points, I have read, and depending on what years we are talking about, that the city guard was often made up by the Handworkers or Tradesguilds, until the standing armies were formed, the city
councils would detail, the guilds to provide Guards. Especially mentioned is the Stone Masons Guild, they were responsible for the Wall, which they actually built. Many of the Trade guilds, if not all of them, were dual functioning entities, and their duties to the City or Town are written about in the Guild Histories. Also their financial compensation and or claims for same. The Messerschmidts of Strassburg, for instance, have much history written about the weapons they produced for the defense forces, the Armor that the Smiths made for themselves was well worn.
Plus we see the Guilds holding Sword Dances or parades, that were essentially displays of that Guilds' Military
might. But I think towards the mid 17th to the 18th century, many larger cities formed permanent and standing armies for the defense of the cities.
Thanks Roger, i am finalizing a draft now. And just have to stop at some point from gathering new bits and pieces.
This is an awesome Stammbuch. and so topical for me right now, i'm looking at the Names on these Wappen,
incredible!
Kevin
PS Check out this Link: it is by far my most favorite artist Jost Amman,
http://diglib.hab.de/wdb.php?dir=drucke ... ype=thumbs
Site Admin

Posts: 701
Joined: Wed Nov 25, 2009 12:13 pm
Weapons: Longsword, quarterstaff, dussack, dagger
Location: Gothenburg, Sweden
Contact:
Hehe, I almost bought two 19th century volumes with Jost Amman illustrations yesterday. I am still considering it.
Here are a couple of more Amman images:
Attachments

Jost-Amman-Gesellen-Stechen-der-Patriziersoehne-in-Nurnberg-1561.jpg (4.21 MiB) Viewed 3428 times

Jost (Jodocus) Amman-2.jpg (301.3 KiB) Viewed 3428 times

Jost (Jodocus) Amman-1.jpg (502.65 KiB) Viewed 3428 times

Historischer Werkzeugschleifer im Ständebuch von Jost Amman-schleifer-1568.png (99.9 KiB) Viewed 3428 times

A tournament in Vienna by Jost Amman-1565.jpg (389.46 KiB) Viewed 3428 times
Kevin Maurer
The other striking thing is the similarity to this image, which i think is the 1590's as well
This was up on Wikipedia for awhile with the translation of the poem, but i cant seem to find it.
Kevin
Kevin Maurer
Interesting that you would post those two. The second and third images are of a Landsknecht Regiment
administering justice to one who was caught and tried, and must suffer "The Right of the Pike" whereby the
regiment formed a gauntlet that he must run, you can see him at one end with the Sherriff, he looks scared.
because it was allowed to beat the hell out of him, I think they stabbed him once or twice also! As he ran the Gauntlet
There are other images that go with them, that shows the Council of Elders, who heard his case, there was
a Sherriff who was the Prosecutor, and he was vicious. they convened in the Field, I forget what they called it just now,
Cool stuff, Roger. Jost Amman Rules!
Kevin
Is on speaking terms

Posts: 8
Joined: Fri May 07, 2010 6:09 pm
Web site 2: http://www.youtube.com/user/Djemps#g/u
Weapons: Longsword, Peasant Staff, Flail, Scythe, Sickle, Pollaxe, Staff.
Here is the image I was talking about...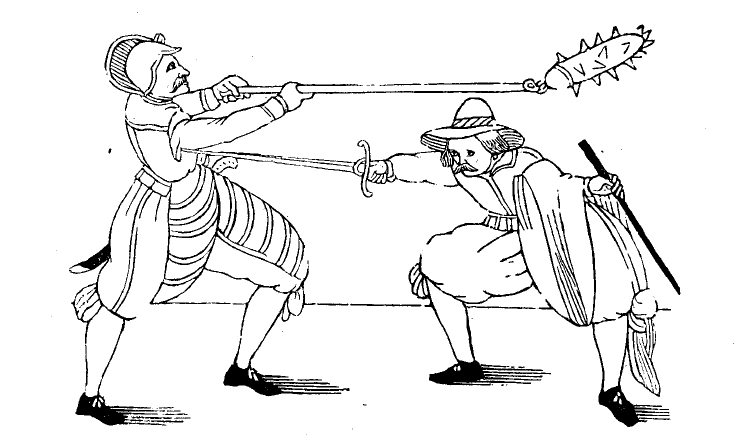 Having had more time to look at all of these images (including the new ones that Roger put up!!) I noticed that the second image in the original post might be some kind of street scuffle where the guards with Flails were actually able to get things under control. You will notice that in the middle of the scene there are two groups of three men standing together. Each group has a well dressed man armed with a Rapier standing in the center flanked by armored men with Flails on either side. In the lower left hand corner it looks like more armored men with Flails are walking some other citizens away from the scene.
Kev, thanks for the great information about how different guilds often served as localized guard forces in different parts of a city. Now I think I better understand why there are these frequent contemporary illustrations of fights between Rapier wielding citizens and Flail swinging guards. It may have all stemmed from Guild rivalries and turf wars. Here's a hypothetical scenario... Maybe one guild was serving as the local police force for the day, dressed in the required armored uniform and armed with the (somewhat) non-lethal Flail. They bump into a group of rival guild men who are dressed in their every day clothes and are armed with Rapiers according to the liberties that their upper / middle class status affords them. Angry words are exchanged and a fight breaks out. Tadah!
This is really some awesome stuff. I have a particular interest in the martial history of Flails and how they were used in combat. Even as I am writing this I am starting to put more pieces together concerning the social reasons for learning to Fight with a Flail. Paulus Hector Mair has 8 pages of Flail Techniques in his
Ars Gladiatoris
, the weapon can be found illustrated in J. Meyer's Fechtbuchs as well as twice in the previously mentioned Sutor Fechtbuch. I believe there are also additional examples of the Flail being depicted in group drawings and paintings of various salles and schools of the time.
Can it be that the famous Freifechter Guilds were also obligated to serve as city guards at various times and thus were required to learn how to handle the Flail since it was the only weapon one was allowed to use when policing the streets? This might explain why the weapon is often depicted as an incidental prop in the background but is never given much attention. It was a part of the Guild's every day training and Guild responsibilities, but it was not a weapon of particular pride or distinguished status. Am I way off base here. Can any of Meyer enthusiasts chime in on this subject?