Prolog: Epic Meaning
The goal of every HEMA-fighter is to "survive" a duel – fought with protective equipment and as little rules as possible – achieved through years of training, practice and research. Certainly not an easy task as each group, club and organization emphasise different core areas in the art of fencing. Some want to fight as realistically as possible, others want to establish a tournament system, while still others have their focus on entertaining spectators. Our association pursues a clear goal: Focus on the human being, while observing individual and human capacities and encouraging continuous development.
This quite epic project is more difficult than one would think of in a daily training routine. How do I know my strengths and weaknesses in a free battle if I do not have a "personal trainer" by my side? Do I have the instructions of my coach successfully implemented in the next fight? How often do I "survive" a fight? How often can I injure my opponent even before I "die"? Who is my personal Nemesis?
After a free fight training -with an average of 10-20 fights- a participant has a good "feeling" about how he/she cut off on that day. But what is the status after 3-4 weeks? Or after 6 months? Do I have developed myself and do I survive now more fights than before?
Goals
These questions motivated us to develop a system that should have these main characteristics:
ease of use (no need for referees, list writers, etc.)

provide extraction of as many and complex information as possible (evaluation and comparison also over a time scale)

keep up motivation of the fighters (using "gamification" elements)
With the following remarks on the implementation of this idea, we hope to encourage other HEMA groups, clubs and organizations to start their own projects or to make fundamental thoughts  about computer-aided recording and analysis of HEMA free fighting. In our opinion, there is no "general system for all". Rather, each group must define their own priorities, based on their own proprietary systems and also fill these systems with life.
The CHALLENGE.3W (CC BY-NC-SA 4.0) system is based on three zones:
Fighting is top priority.
"How much can you know about yourself, you've never been in a fight?"
(Tyler Durden in the movie  "Fight Club")
In our club we fight by a set of rules called 3W-HALAG. Detailed information is available here: 3W-HALAG Rules
The rules for free fighting favoured by us are based on the so-called HALAG rules that were developed and written down by Marcus Hampel and Tobias Wenzel. The rules are deliberately simple and show a certain radicalism. There are no winners, only survivors. The only trophy or the only prize is to stay alive, best uninjured. There are no referees, each fighter counts the hits he receives by himself. The battle ends after a "deadly" hit on the head and / or two "non-lethal" hits to the body. After that one last blow of the "killed" is allowed. Marcus Hampel states:
"On the one hand we leave no stone unturned to grope as much as possible to the ideal of "real combat", on the other hand, we have a built-in emergency brake … we believe this makes sense, because injuries can not be simulated, they can only be realized."
Thus our free fights end for every fighter always with a clearly defined status: DEAD – WOUNDED – UNHARMED
After a fight you scan your result into the system.
"Simplicity is the ultimate sophistication."
(Leonardo Da Vinci)
At the end of a fight, the results should be recorded uniquely as quickly as possible, without the need of a supervisor. After testing a few prototypes we decided ultimately for QR codes (Developed by Denso Wave Incorporated) as a medium. Each fighter owns three "rating tags", which are specially issued for him. The meaning of the green tag is "unharmed", of the yellow tag "wounded" while the red tag stands for "death". All tags carry a QR code in which the name of the fighter, the current status and some other information have been encoded. Every fighter carries the three tags attached with a flexible cord to his fencing jacket, pants, etc. After the fight the fighter will pull his actual status tag in front to get it scanned. All it takes is for example an internet-enabled mobile phone with an installed app to capture QR codes. Quick, easy and unambiguous, no overhead.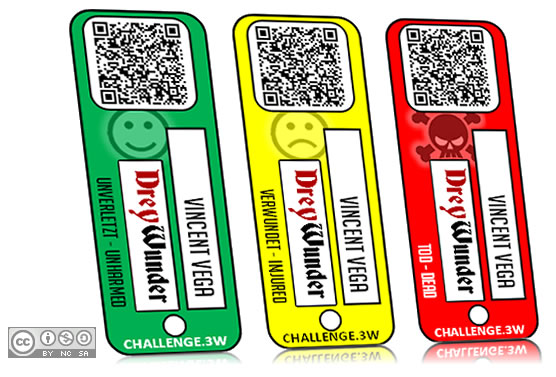 You check and analyze your results and statistics.
"Whoever stops to become better, has stopped to be good."
( Philip Rosenthal 23.10.1916 – 27.09.2001)
The collected information according to this principle and the database-based evaluation system enables a relatively complex analysis. Thus it can make descriptive statements about your own abilities, additionally presented you as graphically enhanced diagrams. Calculated are thereby the individual status (dead – wounded – unharmed), a percentage probability of survival as well as for example the continuity of performance. These values should improve over time.
But how do I get people to understand brittle figures and statistics as motivation or even with a sense of self-criticism? The magic word is Gamification. The won fight-points (own status and enemy status) will be computed into so called experience points (XP) when they are recorded into our system. As a result these XPs can be transformed into a ranking table. Special skills, awards, challenge cups and quests will be awarded according to the XPs and status combinations.

Who now feels reminiscent of various role playing is right. It indeed creates a kind of role-playing game in which each player has to raise up from the sofa, put the potato chip bag and the controller aside and fight, win or lose in the fencing hall with real opponent using realistic rules.
When awarding experience points, skills and awards not the imagination sets the tone, but real fencing skills that need to be developed and improved.
Some examples from our system:
Experience points – XP
Definition:
These kind of points shows the advancement of a fighter. They start at zero and can only rise. Experience points have no natural boundary and should reflect the general progress. For this purpose, depending on the battle events, certain points are then awarded which are cumulated together for a total score (= experience points).
| | | | |
| --- | --- | --- | --- |
| | (opponent killed) | (opponent wounded) | (opponent uninjured) |
| dead | 3 (3) | 2 (6) | 1 (9) |
| wounded | 6 (2) | 5 (5) | 2 (8) |
| uninjured | 9 (1) | 8 (2) | 3 (3) |
For a clear victory a fighter would then get 9 XPs

for a "Double-Kill" 3 XPs

for a clear defeat at least one XP.

This point-matrix can be adjusted depending on the focus.
Rang – rank

Definition: The rank results from the experience points. Fighters want to know at all times what status they have. Progress and end must therefore be documented somehow. Experience points are staggered in classes and thus arise different ranks.
Skills

Skills indicate the strength of an ability of the fighter and usually run tangential to the experience points.

Awards

Awards are the most common form of reward. These are visible confirmation of success seen by all other fighters.
Challenge Cups

Under the Challenge Cup or Challenge Trophy is meant an award whose possession is never definitively enshrined.

Quests

Quests are small tasks with a high fun factor, which make learning more varied.

Examples:

Battle: Take part in a team fight, e.g. 3 against 3 with the same weapons.

Shatter: Fight against X different opponents, one after another, without pause.

Hero: Fight against several opponents, one after another. You chose to fight against 10 different opponents. You must survive at least 5 times. (Rewarded with 15 additional XPs)
Gamification in practice:
To view the progress of the fighter in cumulative form, we integrated the reports on our website. Some components can only be accessed by the individual fighter, while others can be followed by all fighters. In detail, these are:
Challenge Board

The values obtained appear on the CHALLENGE BOARD, a sort of starting page when logging in to our system. The Challenge Board is at the heart of the system and shows, in addition to personal data, all reports.

Information which is displayed on the Challenge Board will be continuously developed and updated.

Ranking Board

A ranking allows you to view the progress of other fighters. Only AVATARS are used in our rankings instead of real names. The goal here is to avoid a direct comparison "Fencer A is better than Fencer B", because this is neither desirable nor justified from the holistic and long-term development considerations within our association.
Award Board
Award Boards display all awards and challenge cups won by the fighters. Fighters are listed here with their real names. The precise title of all awards and challenge cups are explained at the bottom of the page. (Not seen in the picture below.)
Quo Vadis? – One system – many use cases
"Wo viel verloren wird, ist manches zu gewinnen."
(Johann Wolfgang von Goethe (1749-1832), translates to "Where much is lost, some is to win.")
Development of the individual swordsman
The main goal of this system is to observe and to analyse your own fencing progress in free fights. Based on the collected data it is possible to develop individual training plans to compensate for existing deficiencies or enhance less defined skills.
Examples:
When a fighter passes 200 free fights and still is "beginner" in the category "Survivor instinct"  (= less than 100 fights survived), he has to improve his defensive skills.

When a fighter passes 200 free fights and still is "beginner" in the category "Killer instinct"  (= less than 100 "killed" opponents), he has to improve his offensive skills.
Tournaments
Of course, this whole evaluation system can be used in a fencing tournament. We here do not think of classic big events a la Swordfish. Rather we think of  special free fight events, after which there is no cup to win, but in fact you get a detailed report of your own abilities, strengths and weaknesses. The results can be visualized directly on a screen or monitor live as needed. Also conceivable are printed evaluation sheets or documents on which the respective evaluations and possibly rankings are displayed. Whether in the end a public ranking is set up, in order to announce a "winner", depends on the respective tournament agreement and objective.
Theme Tournaments
Fights with special rules. Some simple examples (see "quests" above):
Haufen: Participate in a team battle

Shatter: Fight against X different opponents, one after the other without pause
Hero: Fight against several opponents, one after another. You chose to fight against 10 different opponents. You must survive at least 5 times. (Rewarded with 15 additional XPs)
The system is based on honesty.
"Sincerity is probably the most daring form of bravery."
(William Somerset Maugham (1874-1965))
There is no referee and no video recordings for instant replay to revise a result. For this reason, hits are counted (or ignored) only from the fighter who has been hit.
How honest everyone indicates his own injuries, is up to the fencer's own conscience. To illustrate a practical example, this means: If someone cashed a potentially fatal head shot but does not signal this (ie, the fight does not interrupt, etc.) then there is no debate and no quarrel. In this case, the fighter
did not notice the hit. This is a misinterpretation, can happen to anyone and should be addressed – after the fight – by the opponent.

ignored the hit on purpose to get better results and statistics. With this behaviour the swordsman proves, unfortunately, that he has not (yet) understood the principle of our martial art and the system CHALLENGE.3W. Honesty and courage for his own mistakes must stand in the foreground here. Selfishness, hubris, injustice, if they are not resolved, prevent the progress on our way.
We firmly believe that fencing is more than just sport and can contribute significantly to the formation of character. Therefore, the risk of "cheating" is to be seen as large, the benefits of this behavior for the fighter is but worthless as he only deceives himself.
Can computerized systems help improve our fencing skills? Yes, that is possible. CHALLENGE.3W is just one of many possible ways. Video analysis, slow motion shots and various other scientific methods contribute to help "our" HEMA to be more than one niche sport with nerd-factor. We are convinced that long-term analysis and evaluations in a playful environment can be a lot to reveal an overall picture of our own abilities, strengths and weaknesses in a free fight. The reward is then not only a virtual cup or a new patch on the fencing jacket, but also the additionally acquired fencing ability such as optimal kinematics with multiple opponents, the sparing use of our own power resources with many opponents, etc. The actual and all-important reward is quite another:
The own progress, character education and the will to always become
a better fighter and person!
Acknowledgments:
We thank Marcus Hampel of the club Anno 1838 for development and support of the HALAG rulebook which served as basis for our own 3W-HALAG rulebook. We also thank the community of interests Tremonia Fechten Dortmund for inspiration to get even more from the HALAG rules by means of statistical analysis.
We also thank Dr. Meik Teßmer for the verification of the texts.
Authors: Henrik Gyarmati and Martin Lümkemann
HEMA Group: Drey Wunder (DE)
Web: www.drey-wunder.de
Facebook: www.facebook.com/drey.wunder
CHALLENGE.3W Info Page can be found here.
CHALLENGE.3W is licensed under Attribution-NonCommercial-ShareAlike 4.0 International License.