The beauty of posting your texts on HROARR is that we then can have lots of HEMA articles published under various categories, even quite specific ones, where people post their thoughts and research, and all of it is searchable for the whole community.
Read more
Welcome to HROARR
Resources for the Historical European Martial Arts and Sports Community
The HROARR site focuses on different aspects of Historical European Martial Arts. It is meant to serve both as a help to active HEMA practitioners and as a source of inspiration for people that are unfamiliar with this form of Martial Arts. At its core the HROARR site is a free online HEMA magazine with contributions from the whole community. It is also a neutral meeting ground where we can all connect, share and learn from each other using the tools provided by the site.
"Simply the best Historical Fencing site on the net. The articles are amazing."
Top posts
A couple of weeks ago when I was reading the excellent manuscript  "La Scherma" by the maestro Francesco Ferdinando Alfieri (1640, translated and edited by Caroline Stewart, Phil Marshall, Piermarco Terminielo), I was highly impressed by the chapter: " How to proceed... read more
The most knowledgeable of instructors can also be some of the least effective teachers. There are many reasons for this, but today's article will focus on alleviating boredom in students. First, what is boredom? It is when a student is no longer actively... read more
Latest articles and reviews
This week we launched a sister site called Northern Bush. This site is dedicated to living in the wild with hiking, camping, bushcrafting and survivalism as core topics. It will contain reviews and articles and it is quite possible that it will grow to become similar to HROARR in that it is open for others to write and share their experiences too, to a large audience. Let us know if you wish to join.
The site can be found at www.northernbush.com and on Facebook at www.facebook.com/northernbush
Remember to "like" the site and share the link to others who might find it useful and interesting! We really appreciate your help in spreading the word.
read more
Follow Us
Approved by
Herzog August Bibliothek
Sächsische Landesbibliothek - Staats- und Universitätsbibliothek Dresden
Universitätsbibliothek Wuerzburg
Universitätsbibliothek Heidelberg
Österreichische Nationalbibliothek
Biblioteka Jagiellonska
Lunds Universitetsbibliotek
Nordiska museets bibliotek
The Higgins Armory Sword Guild
SUPPORTED BY

Gothenburg Historical Fencing School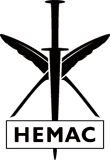 The Historical European Martial Arts Coalition


The Meyer Frei Fechter Guild


The HEMA Alliance