Welcome to HROARR
Resources for the Historical European Martial Arts and Sports Community
The HROARR site focuses on different aspects of Historical European Martial Arts. It is meant to serve both as a help to active HEMA practitioners and as a source of inspiration for people that are unfamiliar with this form of Martial Arts. At its core the HROARR site is a free online HEMA magazine with contributions from the whole community. It is also a neutral meeting ground where we can all connect, share and learn from each other using the tools provided by the site.
"Simply the best Historical Fencing site on the net. The articles are amazing."
"Always excellent and timely. It, the site and FB page are a resource of the first order."
Latest posts
From the archive
Recent news, articles and reviews
In the mid-19th century, not that long after the Belgian war of independence, an experiment was taking place in fencing in the Netherlands. The main proponent of this experiment was Christiaan Siebenhaar (1824-1885), fencing master in the Dutch army.[1] In his own...
Since the elements described and explained up to now are properly just a beginning and primer from which all combat devices with the sword can be learned, it is necessary that before I derive some devices from them, first I should show in what way this shall take...
Though long delayed, this book represents the most complete picture possible of the Liechtenauer tradition of foot combat as it was recorded in the mid 15th century. It's the text I wanted for my students when I was leading a study group, and I'm happy to finally offer it in print. I hope it serves in some small way to advance the study of Johannes Liechtenauer's art.
While sounding like a simple thing to define, sparring can have quite a few and very different goals and purposes that are sometimes hard to keep in sight in the heat of the sparring session. With experience this becomes easier to separate as you get accustomed to the...
Few men are born brave; many become so through care and force of discipline. - Flavius Vegetius Renatus Many pages have been written on the subject of medieval and renaissance combat treatises, every year new translations, books, essays and blogs are added to the...
This video was recorded by the MFFG at the 4th Meyer Symposium in Iowa, USA, 2016 and is yet another small sidetrack from the series.  It shows two basic techniques with Meyer's quarterstaff; Schnappen and Zucken. Both these techniques absolutely require that you...
This video was recorded by the MFFG at the 4th Meyer Symposium in Iowa, USA, 2016. It is a small sidetrack from the series and shows two basic techniques with Meyer's quarterstaff; Ruck and Truck. Ruck requires a soft or medium bind to work and just won't work with a...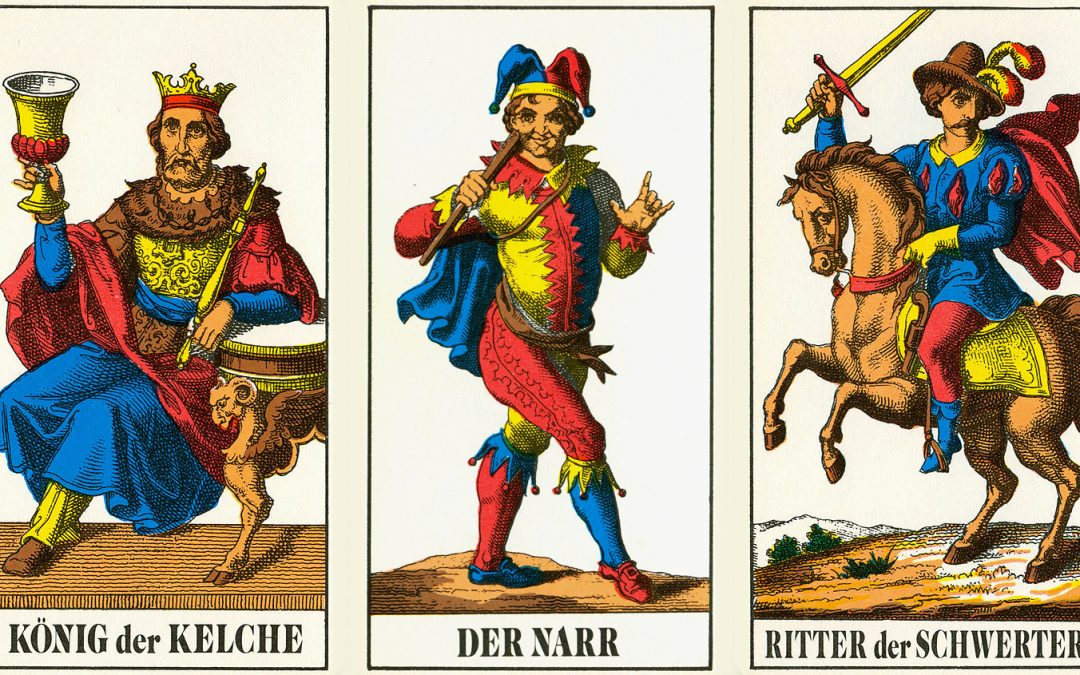 King and Fool - The Vier Leger of Liechtenauer's Tradition and their relationship with common medieval German archetypes. Exposition includes three things: The letter, the sense, and the inner meaning. ((DE STUDIO LEGENDI, Paris, 1120's. Book two; chapter eight:...
This second video in the Basic Meyer Quarterstaff series brings up a few topics: First of all the stance and angles of the legs, which has been debated a bit with different arguments concerning whether one really should stand and move in such low stances. My firm...
For the last seven years I have dedicated myself to the study of Joachim Meyer's combat arts, and his quarterstaff in particular. In this I have had some very good friends accompanying me over the years in my club, and also some in other parts of the world. While the...
Part One of this article examined the famous judicial duel between Jean de Carrouges and Jacques Le Gris, which was held in Paris in 1386. As it turns out, the description of the event in Eric Jager's book The Last Duel is rather different from the five surviving...
According to the website Deadline Hollywood, Studio 8 has hired a screenwriter to turn Eric Jager's book The Last Duel into a script for a Hollywood movie (Fleming, 2015). This tale, published as nonfiction, is an account of the judicial duel in 1386 between Jean de...
As a teacher, you prepare to show a student a technique from the treatise of your choice. You have art, text, and experience, you're qualified, you know what you're doing. Everything is set as you prepare to share your hard-earned wisdom. Besides! Said student came to...
My first contact with what I know now as HEMA took place in the spring of 2009. I was attending a military re-enactment event at Jamestown Settlement in Williamsburg, Virginia. One of the re-enactors gave a demonstration on Fiore de Libre's Armizare. I was intrigued...
This article describes how full contact martial arts handle sparring intensity like Mixed Martial Arts, Dog Brothers Martial Arts, Brazilian Jiu-Jitsu, Luta Livre, Freestyle wrestling, Kendo and what we can learn from this for HEMA.